Now you've already informed about where to stay, where to eat, where to drink, to create the Fantastic 4, there must be the answer for where to visit too.


Hanoi is going to celebrate its 1015th anniversary of being Vietnam's capital this October, how funny is the older it gets, the deeper I fall in love with this ancient city. Antiques figures of Hanoi are still looming in many sites that just await you to explore.
Here is the list that I recommend
HO HOAN KIEM – THE LAKE OF SWORD RETURN, THE HUC BRIDGE AND NGOC SON TEMPLE:
These places are the legendary triplet of Hanoi. The name Hoan Kiem came from thousands years ago, the legend recorded in "Lam Son thuc luc" by sir Nguyen Trai said that king Le Loi was bestowed a Magic Sword that boosted up his soldier's spirit, made him glorify defeated Chinese invaders at that time. One day after his victory in the year around 1428, while boating in the lake, a Turtle Genie appeared out of the water surface required him to return his almighty sword for Dragon King. King Le Loi happily gave it back for the Deity, the lake got its name then but the history of the Turtle Towel still remains a mystery.
Hoan Kiem Lake is an attraction not only for tourists but also for the locals
Ngoc Son temple was built-in the early of the 20th century, in the dedication of Duc Thanh Tran. This is regarded as one of the most sacred place in Hanoi, so please note that DO NOT wear clothes that show a lot of cleavage, this express great offensive to the locals. The Huc bridge was built a little bit later than Ngoc Son temple, The Huc in the ancient language means Convergence of the Light.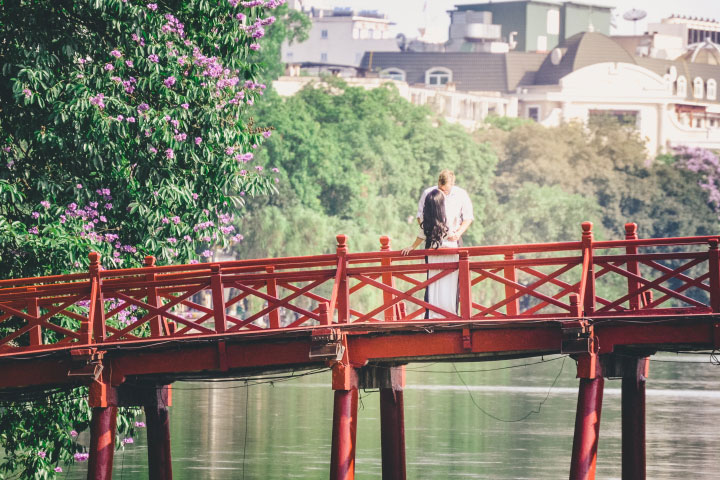 The Huc Bridge
HANOI OLD QUARTER AND CYCLO TOUR
An indispensable sight in your trip is to explore Hanoi 36 ancient streets. Wanting to explore Hanoi culture? Explore 36 old streets, it will never fail to amaze you. Don't have time wandering? Using Green Tour service but I prefer cyclo more, which is cheaper and don't stop at many shop and don't urge you to buy. Cyclo tour average cost is 50 000dong/hour and make sure you clear on the price with the driver before get on the vehicle.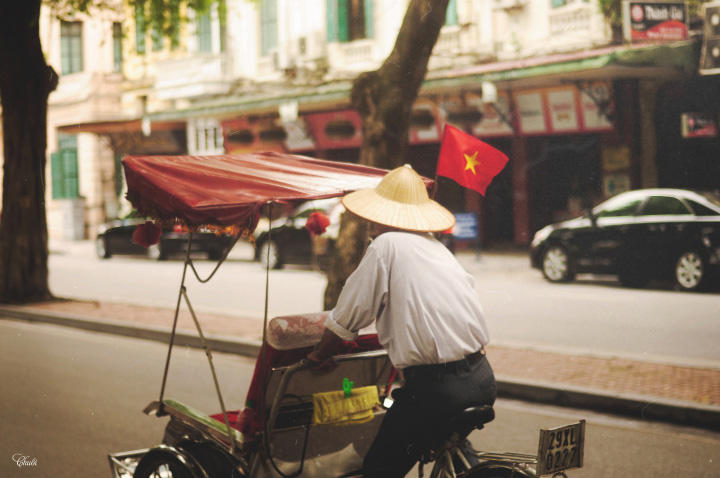 Cyclo, eco & tourist friendly, just make sure you clear on the price first
Each street with its very own name started with the word "Hàng", whose means is "store", and the second word is the name of good people sell on that street, yet it no longer popular since many streets have transformed to adapt the modern flow, but most of them still keep its initial concept.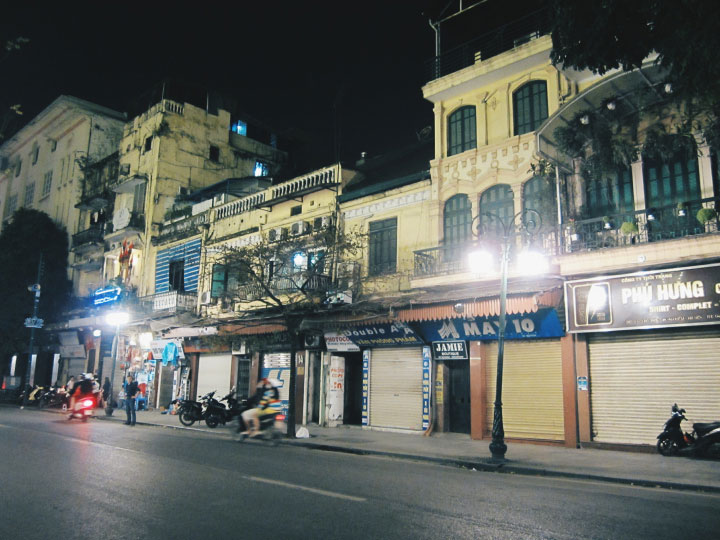 Hanoi Old Quarter is awaiting you to explore
ST. JOSEPH'S CATHEDRAL:
In 1882, after the French army conquered Hanoi, the cathedral was constructed and completed in 1886. The cathedral and Nha Chung area were built on the land formerly belonging to Bao Thien pagoda, which was built under Ly dynasty, obviously the French was very religious at that time that this is one of the first constructions they constructed after invading the colony. The architecture with domes of the cathedral follows the Gothic style and design of Paris Cathedral. Today, taking advantage of beautiful architecture and good venue at the center of the city, the area surrounding the cathedral is always packed with hundreds of local people and tourists hanging out with friends for drinking, talking, and watching the street. A very nice area indeed.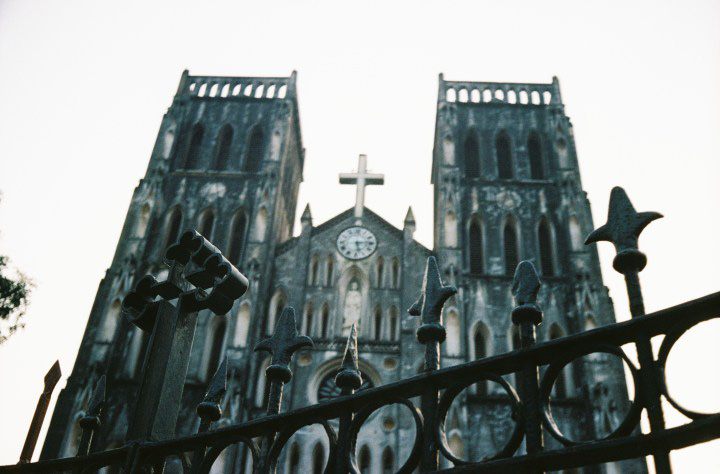 St. Joseph's cathedral located in Nha Chung strt, a Christian section of Hanoi


TEMPLE OF LITERATURE:
This is the first university in Vietnam. The Temple of Literature is about 10 minutes away from Hoan Kiem lake. It was constructed in 1070 under Ly Thanh Tong's dynasty, first to honor Confucius and nowadays to celebrate the doctorates and high rank scholars of Vietnam. In 1076, King Ly Nhan Tong continued the work and built Quoc Tu Giam as the first university of Vietnam. The temple is located to the south of the Imperial Citadel of Thăng Long. The various pavilions, halls, statues of doctors are places where offering ceremonies, study sessions and the strict exams of the Đại Việt took place. The temple is featured on the back of the 100,000 Vietnamese đồng banknote.
Khue Van Cac – The charm of Khue star. A consisted construction in Van Mieu Quoc Tu Giam
Address:
Van Mieu strt, Dong Da Dist, Hanoi
Time:
8:30AM – 4:30PM
Fee:
20,000 VND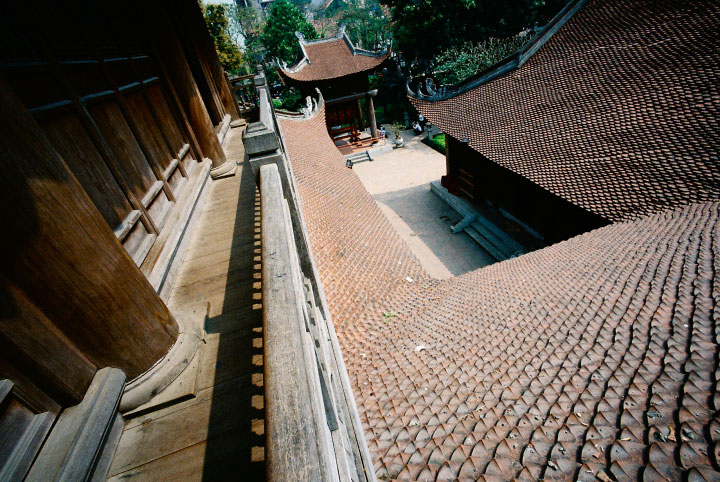 Van Mieu Quoc Tu Giam – Temple of Literature is the 1st university of Vietnam
ONE PILLAR PAGODA:
I didn't tent to recommend this place but however, have you ever visit any construction that has a shape of the flower Lotus, and was built up thousand years ago? I don't think you have. The One Pillar Pagoda was originally built by the Emperor Ly Thai Tong who ruled from 1028 to 1054. According to the annals, the heirless emperor dreamed that he met Quan The Am Bo Tat, the Goddess of Mercy, who handed him a male child. Ly Thai Tong then married a young peasant girl and had a son and heir by her. Emperor Ly Thai Tong had this temple constructed in gratitude for the mentioned significant legendary event in 1049, he built the pagoda with the shape exactly what he saw in his dream, which had Lotus disguise. With its interesting background and special design, this place worth a try. Open everyday, no fee charged.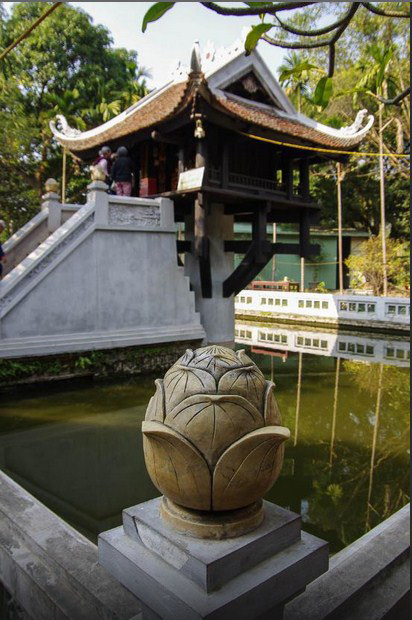 One pillar Pagoda famous for its different and remarkable structure (picture from Trip Advisor)


THANG LONG CA TRU CLUB OR THANG LONG GUILD:
Ca trù, "Tally Card Songs" also known as hát Ả Đào, is an ancient genre of chamber music featuring female vocalists along with traditional instruments. For much of its history, it was associated with a geisha-like form of entertainment, which combined entertaining wealthy people as well as performing religious songs for the royal court. This is regarded as one of the oldest art form of the Hanoian as Hanoi is the original place of Ca Trù.
Time:
8pm – 9pm Tuesday, Thursday and Saturday
Address:
87 Ma May Street, Hanoi Old Quarter.
Fee :
10$ for adults and children under 9 years old only.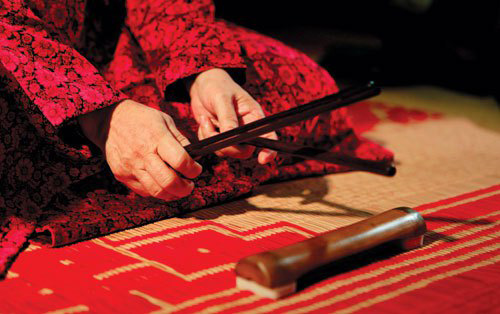 Traditional instrument, Mõ.
THANG LONG WATER PUPPET:
Don't leave Hanoi without seeing a Thang Long Water Puppet Theater show. These musical stories portrayed are of historical legends and folk tales. These ever-popular performances are given by a troupe of talented actors and accompanied by a traditional Vietnamese pit orchestra. Traditional content of water puppet performance like daily life of Vietnamese farmers (cultivating, tending buffalo, catching fishes…), communal entertainment (swimming contest, dragon dancing…), or historical legends (Hoan Kiem lake legend…), with modest performance way have appealed audiences for centuries. However, the artists of Thang Long Water Puppet Theater want to renew the old puppet shows with effect of light, music and combination between people and puppets. It sounds risky, but the theater has been successful since the beginning and received favors and praises from audiences.
Address:
57b Dinh Tien Hoang Strt, Hoan Kiem Dist, Hanoi Old Quarter.
Fee:
60.000 – 100.000 VND ($3-5)
Time:
Every day at 15:30 – 17:00 – 18:30 – 20:00 – 21:15 and Sunday at 9:30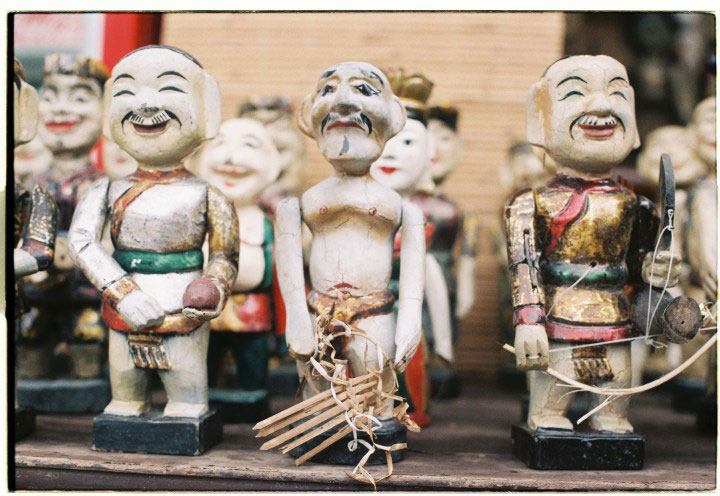 Vietnamese puppets
IMPERIAL CITADEL OF THANG LONG:
The Imperial Citadel of Thang Long (Vietnamese: Hoàng thành Thăng Long) is the cultural complex comprising the royal enclosure first built during the Lý Dynasty. The royal palaces and most of the structures in Thang Long were in varying states of disrepair by the late 19th century with the upheaval of the French conquest of Hanoi. By the 20th century many of the remaining structures were torn down. Only in the 21st century are the ruin foundations of Thang Long Imperial City systematically excavated. The buildings of the Imperial Citadel and the remains in the 18 Hoang Diêu Archaeological Site reflect a unique South-East Asian culture specific to the lower Red River Valley, at the crossroads of influences coming from China in the north and the ancient Kingdom of Champa in the south.
Address:
19c Hoang Dieu, Ba Dinh dist, Hanoi
Fee:
30 000 dong/person.
Time:
Everyday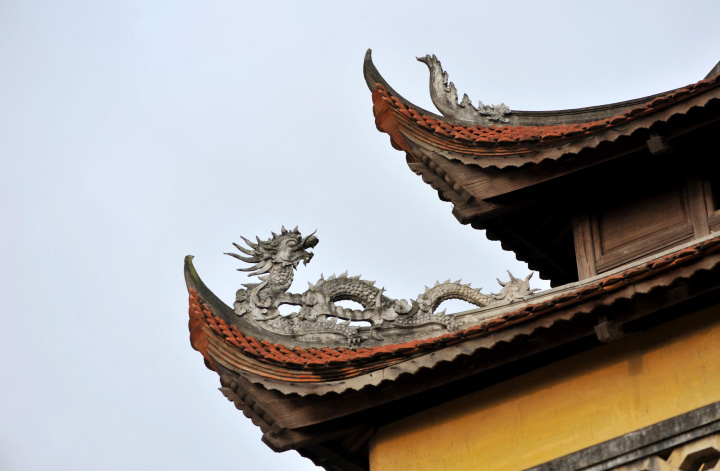 Imperial Citadel Thang Long
VIETNAMESE WOMAN MUSEUM:
The Vietnam Women's Museum delivers a beautifully presented tribute to the women of Vietnam across ages. You could spend a long time trying to work out how exactly gender politics play out in Vietnam. At so many levels this is still a powerfully patriarchal system. Yet at every turn and throughout Vietnamese history, there are ample exceptions that defy rigid interpretation. Whether you're watching mothers with kids, women in the rice paddies, staff in a restaurant or hotel, business leaders, or studying history, Vietnam's women make their mark. And this museum is all about them. Elected by the travel website TripAdvisor as the most exciting place in Hanoi from over 80 attractions in Hanoi for two consecutive years, 2012 and 2013, the Vietnam Women's Museum is a good place for those who want to learn more about Vietnam, its culture and people.
Address:
36 Ly Thuong Kiet Street, Hoan Kiem District, Hanoi, Vietnam
Fee:
30 000 dong/person
Time:
8:00 – 17:00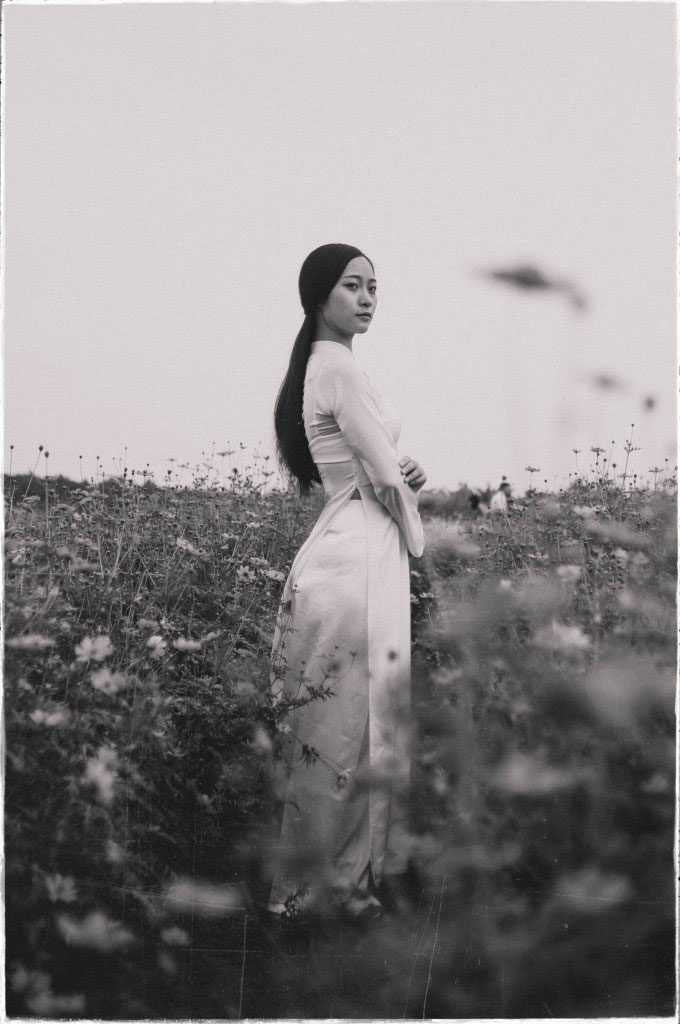 Vietnamese woman in traditional dress Ao Dai
BUY BOOKS AT ĐINH LỄ STRT, WALK ALONG ĐINH TIÊN HOÀNG STRT, COME OVER HUONGMAI CAFÉ TO HAVE A CUP OF COFFEE
Why? No particular reason, it just so cool to do it. I don't know the exactly period that Đinh Lễ strt started becoming the street of Books, but I pretty sure it must be long long time ago event before I was born. Books at Đinh Lễ strt not only diverse but also very cheap, about 10 – 20% cheaper than its original price, and why? I just don't know why, but these books are real, I can assure.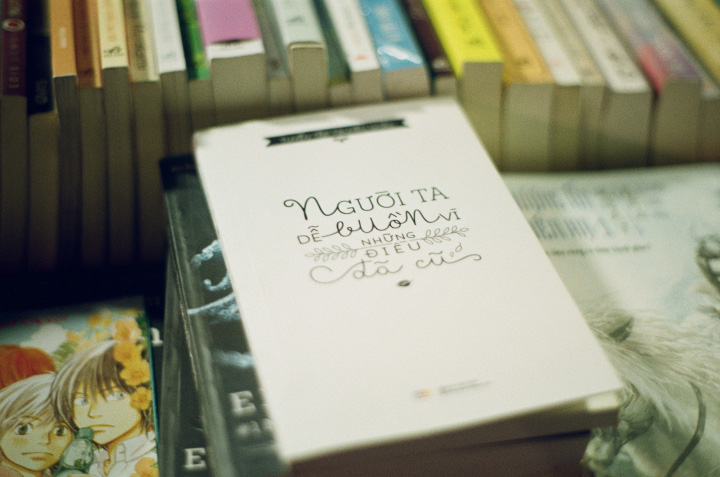 Books at Dinh Le Strt.
After buying books from this street, walk along Đinh Tiên Hoàng strt, enjoy the atmosphere, enjoy the people, see Vietnamese girls wearing Áo Dài busily posing next to Hoan Kiem Lake, enjoy the narrow under big and ancient tree on the pavement, enjoy the most Hanoi area, then come back and comment how you feel.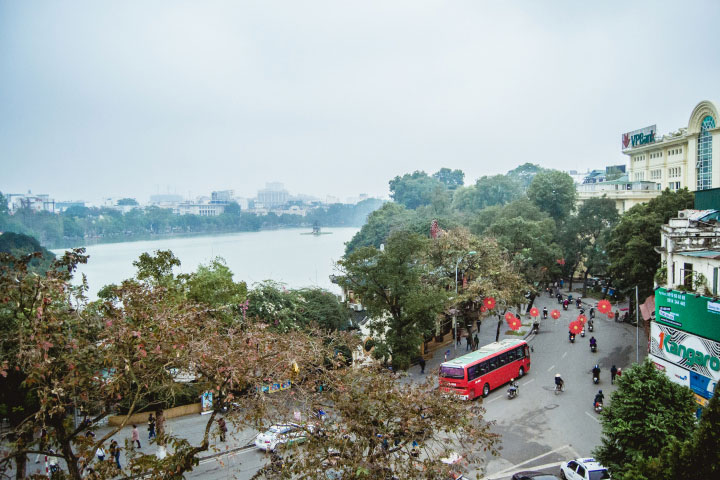 Walk around Hoan Kiem Lake, along Dinh Tien Hoang strt and Ly Thai To strt to soak yourself in the lifestyle of the trulest Hanoian
Now tired of wandering? Come to Hang Manh strt to enjoy Vietnamese grilled pork with cold noodles for lunch, and after that a cup of real good Vietnamese Iced Coffee to ease the heat would be ideal. Huongmai Café store located in 15 Hang Manh strt will always welcome you.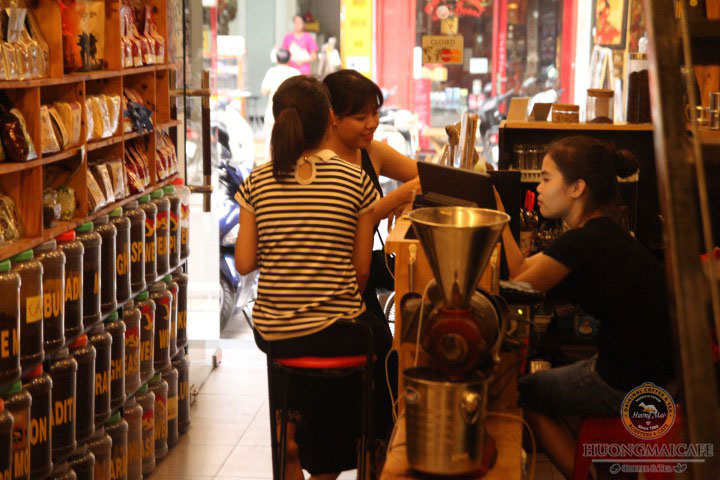 People always have great time in Huongmai cafe
Huongmai café is the oldest roasted coffee shop in Hanoi, with monopoly protected name, we never fail in satisfying any customer. Why waste your time and money on bad quality coffee? Huongmai Café has 35 years in business sure they know things that will amaze you, for more information read my previous post: Shopping in Hanoi – Hanoi Oldest shop. Wanting Vietnam Weasel Coffee ? Huongmai Café is the answer.
Address:
15 Hang Manh strt, Hoan Kiem dist, Hanoi Old Quarter
58 Ma May strt, Hoan Kiem dist, Hanoi Old Quarter
56 Hang Be strt, Hoan Kiem dist, Hanoi Old Quarter
49 Lo Su strt, Hoan Kiem dist, Hanoi Old Quarter
4 Xuan Dieu strt, Tay Ho dist, Hanoi
---
Related posts :
VIETNAM WEASEL COFFEE – THE TRUE STORY BEHIND THE WORLD MOST EXPENSIVE COFFEE
WHAT TO DO IN HANOI PART 5: Essential tips
WHAT TO DO IN HANOI PART 3: BIA HOI AND VIETNAMESE COFFEE
WHAT TO DO IN HANOI PART 2: HANOI EATING
WHAT TO DO IN HANOI PART 1: STARTER 101
VIETNAMESE LOTUS TEA – HOW TO SERVE
HOW TO BREW COFFEE USING VIETNAMESE PHIN FILTER
VIETNAMESE LOTUS TEA – A QUINTESSENCE GIFT FROM HANOI
SHOPPING IN HANOI: HANOI OLDEST SHOPS