NGÀY PHỤ NỮ VIỆT NAM 20/10
***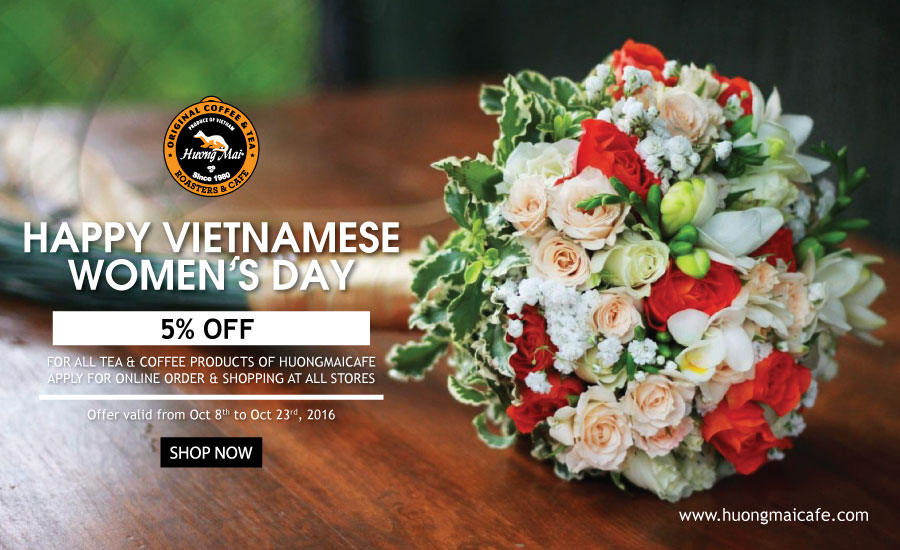 Together with International Women's Day on March 8th, Vietnam also celebrates Vietnamese Women's Day on October 20th. Though this is not a public holiday, Vietnamese Women's Day is celebrated widely throughout the country every year as a special occasion for men to express their love, respect and gratefulness to their beloved women. This day is believed as significantly important day to all Vietnamese women.
HOW IS THE DAY CELEBRATED IN VIETNAM ?
Vietnamese women often receive beautiful flowers, chocolate, post cards, jewelry, perfume, or special gifts with the best wishes from their adult sons, lovers, husbands, male colleagues, friends or relatives on this special day.
There are lots of meaningful things for men to express their love to women on this day. For those being in love, the day is somehow considered as another Valentine's Day. Women usually receive a beautiful bunch of flowers, a special gift from her lover, and may have a romantic dinner together in a restaurant. Young lovers can also spend this special day walking around the Hoan Kiem Lake, joining with the flow of people wandering around the bustling Hanoi Old Quarter – a very familiar place with Hanoians or just enjoy a cup of Vietnamese traditional tea or Vietnamese traditional coffee there. Men will do things that make his sweetheart happy with his special attention on this day.
For married couples, we usually feel very cozy atmosphere at home when husband is the one who take all house work on this day. Men will go to the market, buy food and get into the kitchen to prepare special dinner for his family with his sincere heart. Besides, women in family (included mothers, wives, or daughters) would also receive flowers and special gifts from the family's men.
On this Vietnamese Women's Day, not only Vietnamese Men who specially care for their women but also foreign men will take the occasion to show their love to their Vietnamese beloved women. This will be a new but very special culture to these foreign men.
Besides, male colleagues may also organize a small party for their female colleagues, this help to show their concern as well as the solidarity at work.
Vietnamese Women's Day is a perfect occasion for men to express their love for Vietnamese women, to make their beloved women happy, and to remind men about the importance of women for their life, the society and the nation.
Happy Vietnamese Women's Day 2016 !