NEW BRANCH OPENING
ONLY APPLIED FOR ROASTED COFFEE OF HUONGMAI CAFÉ AT THE NEWEST SHOP – No. 56 HANG BE STREET, HOAN KIEM DISTRICT, HANOI FROM 22ND TO 30TH, APRIL, 2016.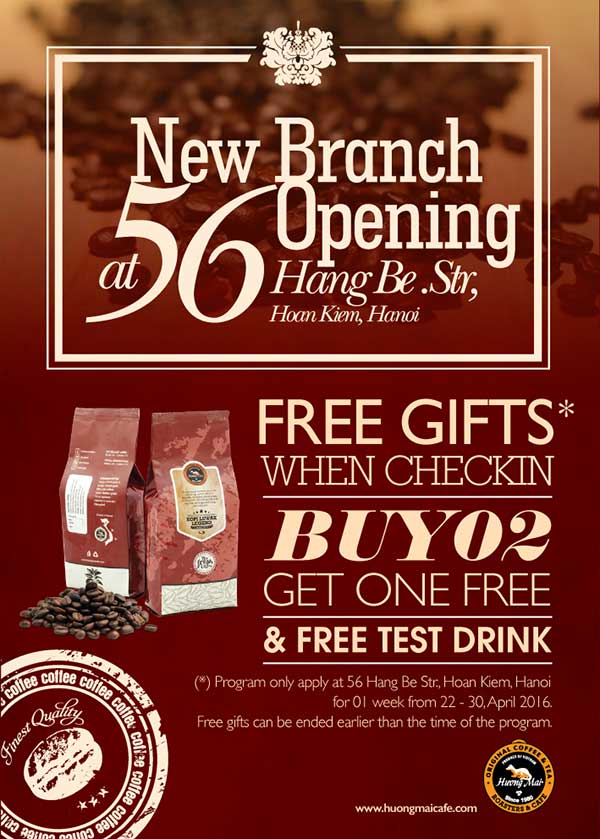 FREE DRINKS
Pure Arabica, Robusta, Culi … beans freshly brewed at the bar and free coffee for all!
FREE GIFTS GIVEN OUT
Coffee Bags for Car or Premium Coffee Filters are given out for free when customers check – in at "Huong Mai Café – 56 Hang Be" with their pictures published publicly and share on any social network and share this post in public: https://goo.gl/7aHOry
BUY 2 GET 1 FREE
Buy 2 get 1 free for all Huongmai's roasted products.
FREE PREMIUM WEASELCOFFEE PACK
Get the world's most expensive coffee for free ! Premium Weasel coffee served under the form of Drip Bag – The modest form of Vietnamese Phin Filter which deliver coffee boldness, taste at its finest. Get this $12.75 box of coffee for free (Applied for order exceeds $100)
$10 OR 10% DISCOUNT VOUCHER FOR ALL
Luxury coffee? No longer expensive with our 10% discount voucher, applied for online order via www.huongmaicafe.com